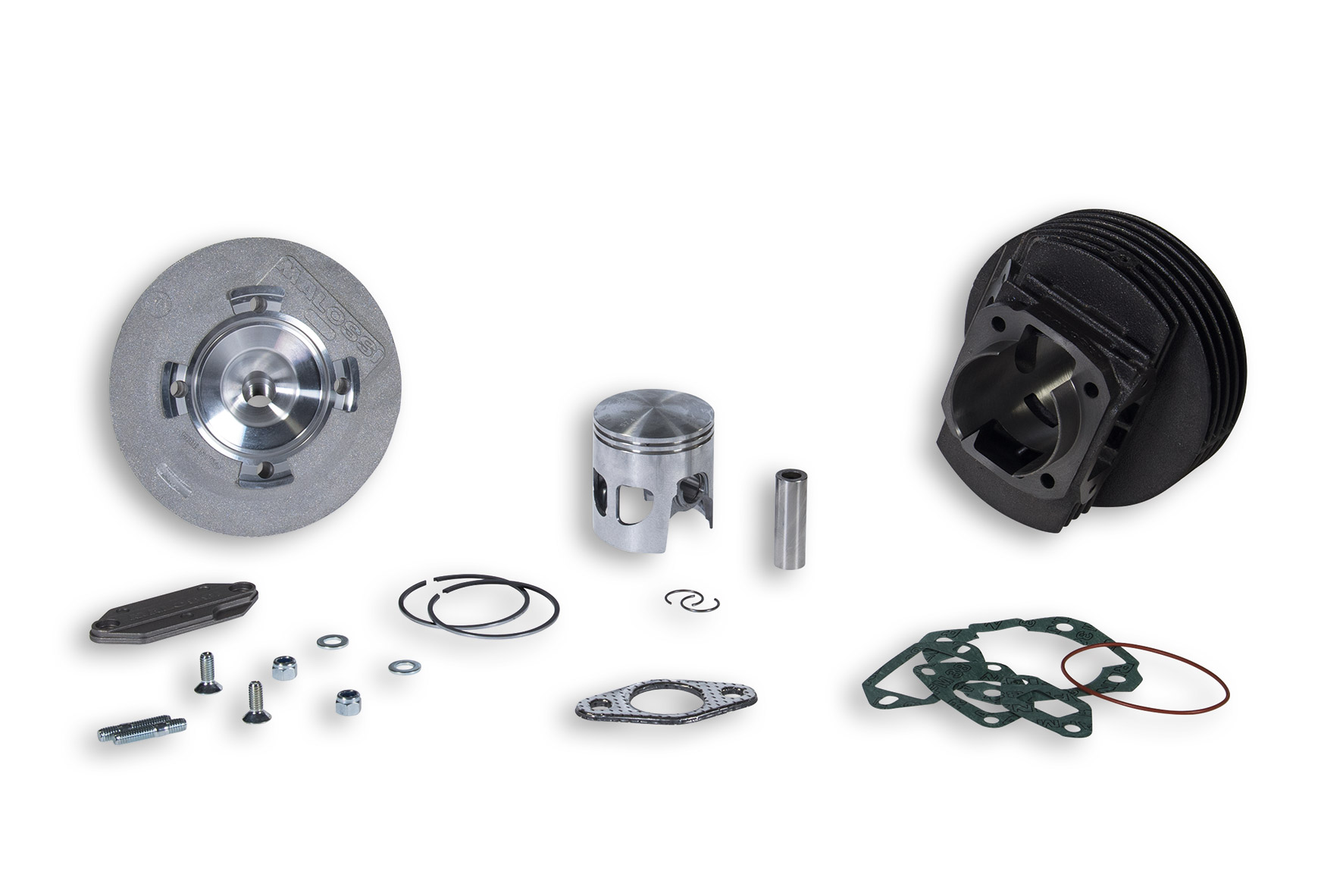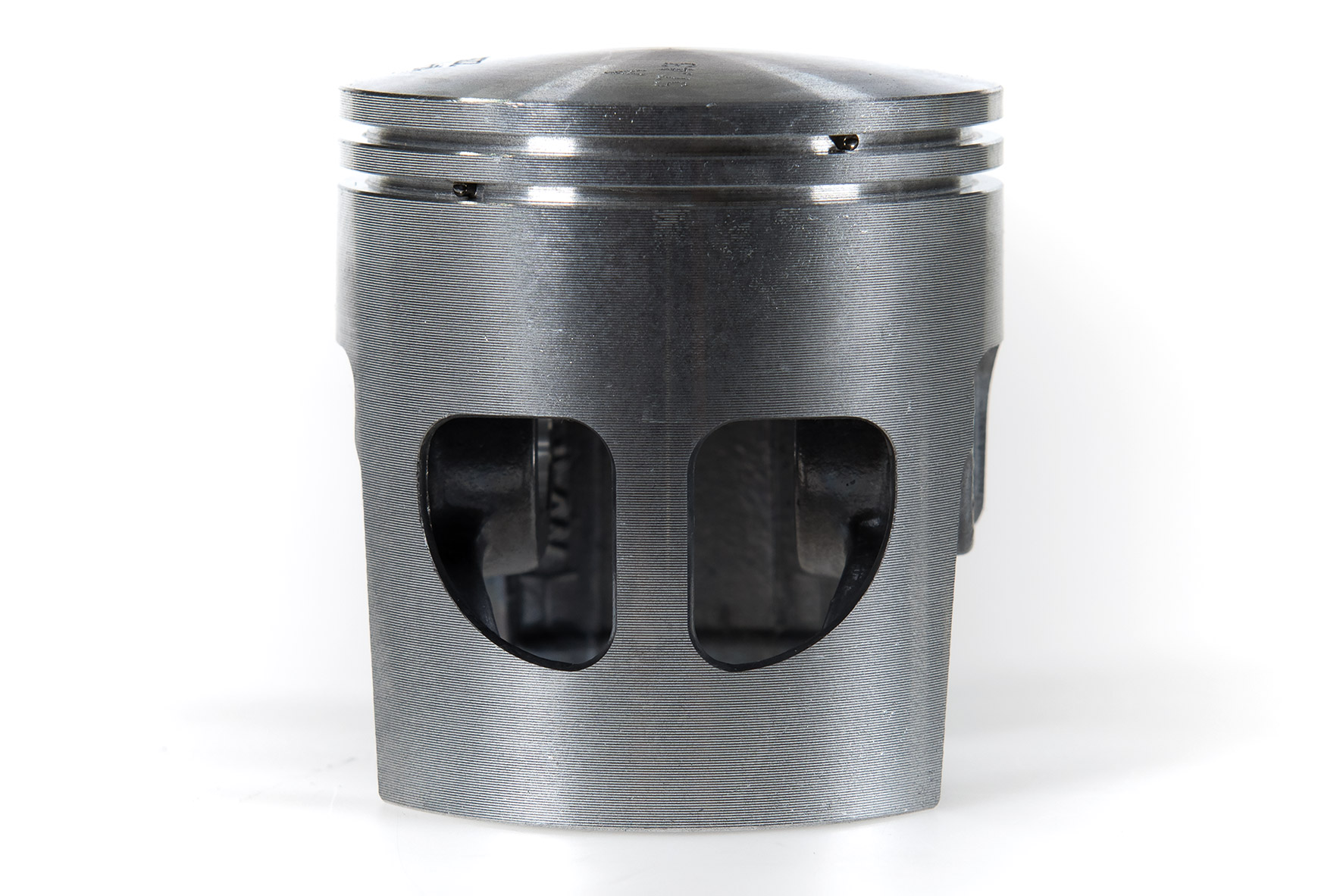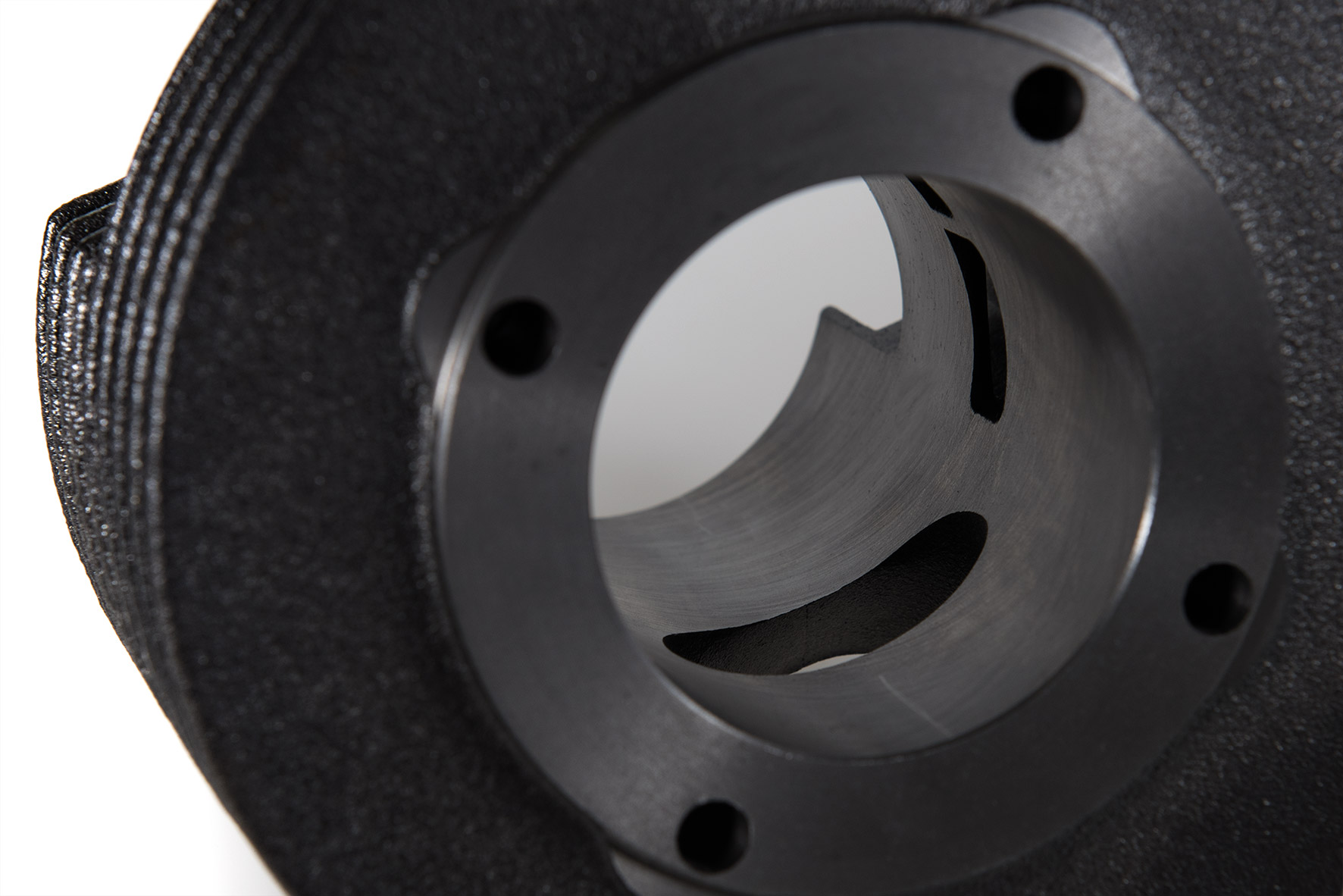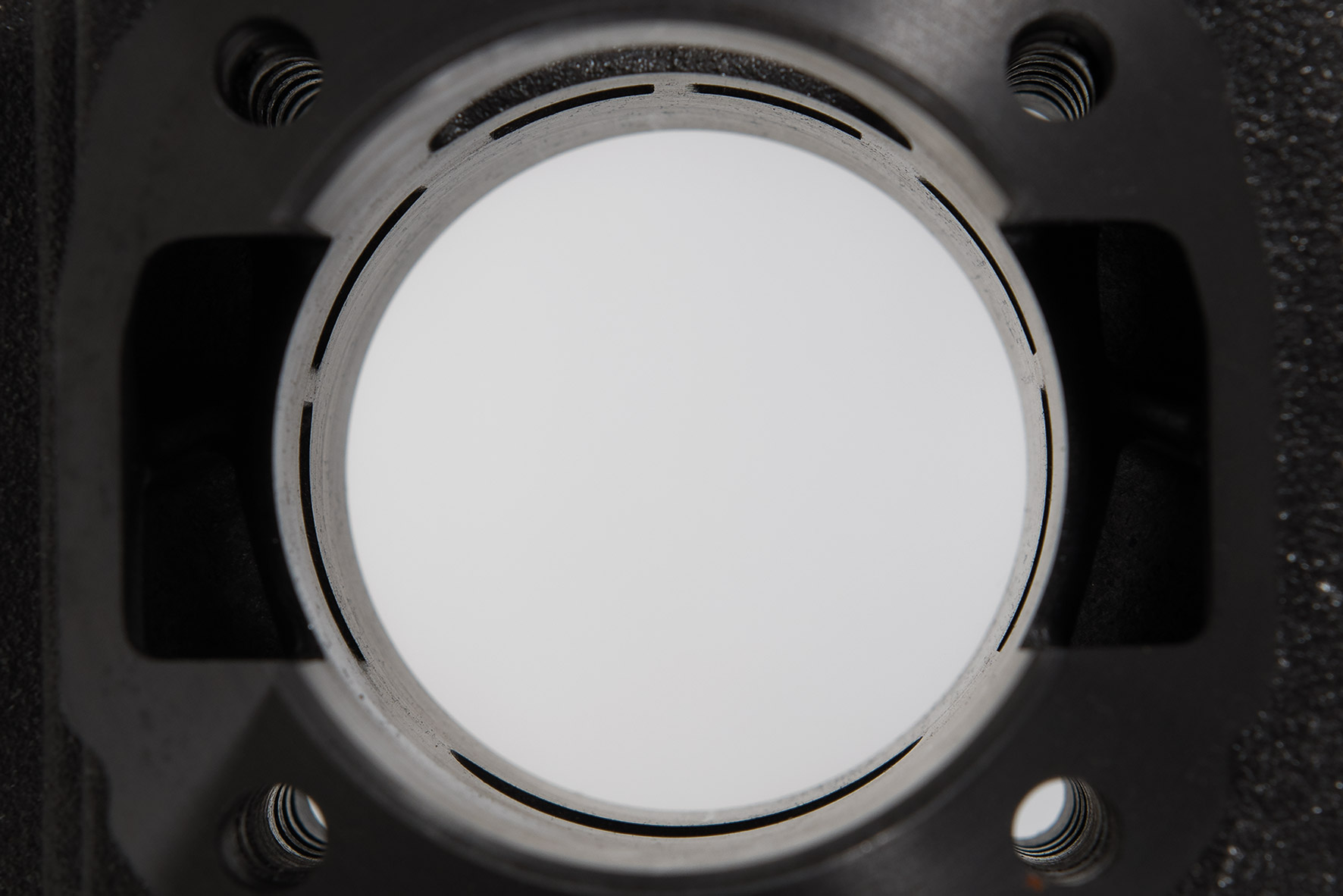 The product has LOW AVAILABILITY.
Description
Constantly refined over the years, the legendary cast-iron cylinder kits for Vespa have now a new code, after undergoing further upgrade concerning above all the main and rear transfer ports, the exhaust port and intake port, this latter considerably increased in its dimensions.
It is the one and only cylinder kit of its kind using an o-ring as sealing gasket between head and cylinder, in order to guarantee better sealing and heat dissipation.
By improving torque at low RPMs, this cylinder kit further increases performance.
Continuing on its course of tireless and complete renewal and continued research into the best possible technical solutions, Malossi has created a new piston specifically for the cast iron cylinder designed for the Vespa.
An evolution of the construction technology behind the piston in the aluminium cylinder, the new piston has another band and is much more robust. The intake ring is doubled up to increase robustness and for movement inside the cylinder chamber. This solution has allowed for both an increase in rigidity by removing the upper rings from both sides of the piston, as well as optimum flow to the porting.
Take a look inside the piston head and you will have an idea of the almost maniacal work which went into the planning and development phase of this new product. Extrusion was abandoned in favour of a structure with more pronounced bands which guarantees first-class resistance to the piston, while making it noticeably lighter at the same time.
With this development Malossi technicians went beyond all expectations once again!
Cast-i-cylinder kit ø 57.5
Cylinder
Material: special self-lubricating, wear-resistant, highly refined cast iron alloys, obtained by Shell Moulding gravity die-casting.
Machining: on numerically controlled high precision machine tools.
Recalculated and increased heat exchange surfaces.
Exhaust and transfer ports designed and tuned for maximum thermodynamic performance.
Dimensional and surface finish quality control performed according to Malossi's internal specifications.
Cylinder and piston selected for a 100% fit of 0.010-0.005 mm.
Checking of all the seals carried out.
Piston
Material: special aluminium alloy with high silicon content and low thermal expansion.
Machining: on numerically controlled machine tools.
Lightened and strengthened.
Heat exchange surfaces increased.
Piston rings
Piston rings in very strong modular cast iron with ground, wear-resistant, hard chrome metal-spray coating on the contact surface.
Head
Material: special die-cast aluminium alloy.
Geometry of heat exchange surfaces recalculated and increased.
Machining: numerically controlled high precision machines with diamond tools.
Surface rust prevention treatment.
Viton Head Gasket.
Hemispheric combustion chamber with centred squish and spark plug.
| | |
| --- | --- |
| 3116326 | Ø 57.5 mm |
| Use | Urban / sport |
| Power range | 12 / 18 |
| Level of elaboration | easy |
| Carburettor recommended | Shb 20/ phbl 25 |
| Stroke | 51 |
| Compression ratio | 1:11.4 |
| N° piston rings | 2 |
| N° ports | 7 |
| Head | Hemispheric |
| Spark plug | Centre iw f 24 |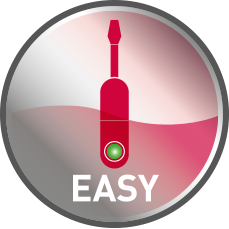 Produits réservés exclusivement à la compétition dans les lieux réservés pour et suivant les dispositions des autorités sportives compétentes. Nous déclinons toutes responsabilités en cas d'utilisation inadéquate.
Makes and Models
CAST-I-CYLINDER KIT Ø 57,5 pin Ø 15
Spare parts
CAST-I-CYLINDER KIT Ø 57,5 pin Ø 15
| Code | Description | Price | |
| --- | --- | --- | --- |
| 3515194 | 2 PISTON RINGS Ø 57,5x1,5 chro.rectangular KDN5 | € 29.46 | + |
| 3515194.40 | 2 PISTON RINGS Ø 57,9x1,5 chro.rectangular KDN5 | € 38.80 | + |
| 3515194.80 | 2 PISTON RINGS Ø 58,3x1,5 chro.rectangular KDN5 | € 42.09 | + |
| 3816567 | ALUM. CYL.HEAD Ø 57,5 MHR VESPA ET3 Prim./ETS/PK 125 | € 75.64 | + |
| 1915828 | BOLT KIT VESPA ET3 - ETS | € 18.30 | + |
| 36 4416 | C - PISTON PIN CLIP Ø 15x1,2 | € 0.32 | + |
| 3116327 | CAST-I-CYLINDER Ø 57,5 pin Ø 15 | € 215.21 | + |
| 1115631 | COMPL. CYL.KIT GASKET SET Ø 57,5 VESPA ET3-ETS-PK 125 | € 11.86 | + |
| 3416323 | PISTON Ø 57,5 0 pin Ø 15 chro.rect. rings 2 | € 94.97 | + |
| 3416323.A0 | PISTON Ø 57,5 A pin Ø 15 chro.rect. rings 2 | € 94.97 | + |
| 3416323.B0 | PISTON Ø 57,5 B pin Ø 15 chro.rect. rings 2 | € 94.97 | + |
| 3416323.C0 | PISTON Ø 57,5 C pin Ø 15 chro.rect. rings 2 | € 94.97 | + |
| 3416323.D0 | PISTON Ø 57,5 D pin Ø 15 chro.rect. rings 2 | € 94.97 | + |
| 3416323.J0 | PISTON Ø 57,9 pin Ø 15 chro.rect. rings 2 | € 104.75 | + |
| 3416323.K0 | PISTON Ø 58,3 pin Ø 15 chro.rect. rings 2 | € 104.75 | + |
| 23 4483 | PISTON PIN Ø 15x09x45 | € 18.10 | + |