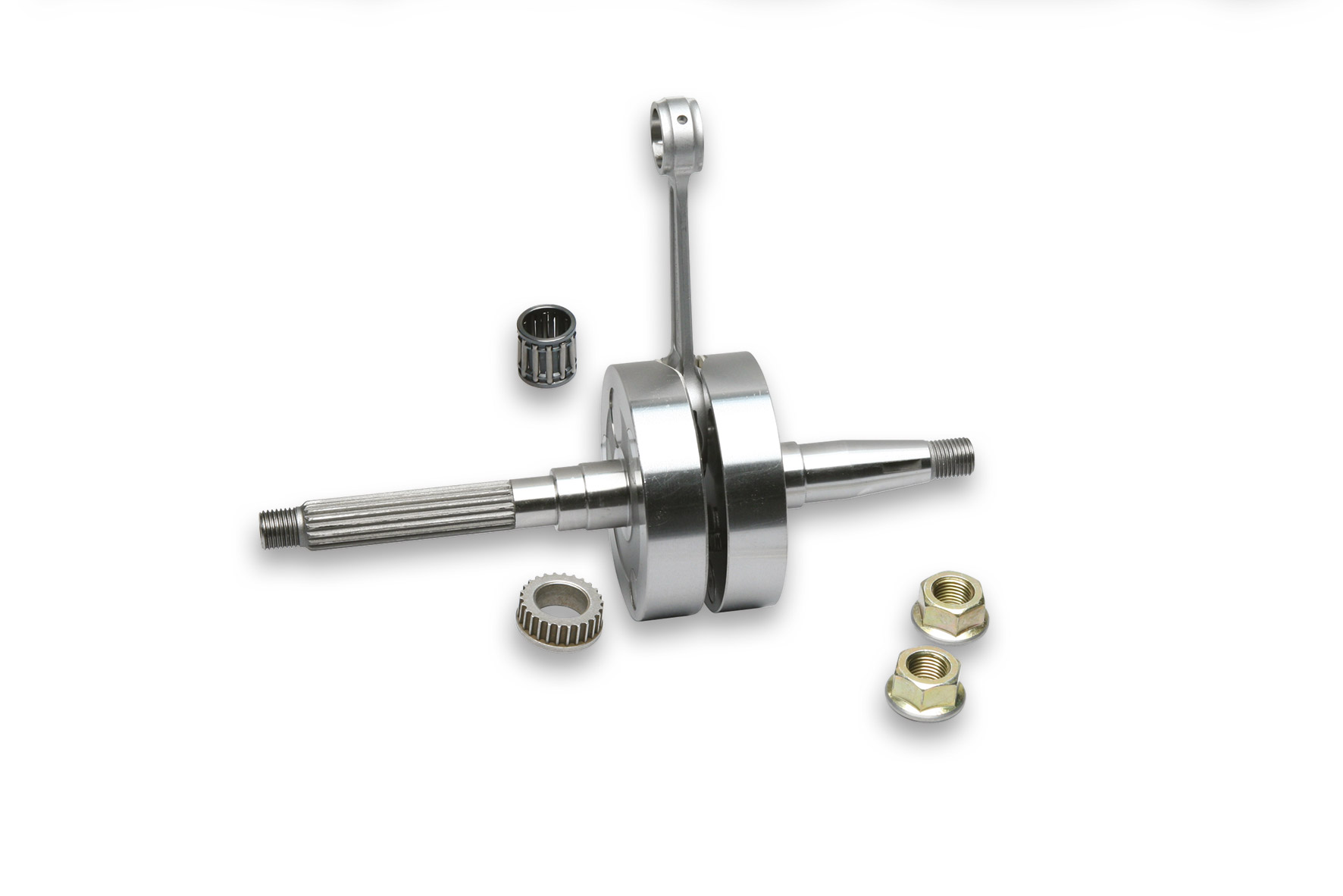 NOTE: Crankcase MODIFICATIONS: BORING - TO COUPLE ONLY WITH cylinder Kit 3113042 / .T0 - WE SUGGEST TO USE bearings 6614105EA
Description
Together with the new project of BIG BORE cylinder kits, Malossi has designed a set of crankshafts with a high quality materials and a special finishing degree.
The above mentioned Malossi crankshafts must be used only coupled with Malossi BIG BORE cylinder kits.

Produits réservés exclusivement à la compétition dans les lieux réservés pour et suivant les dispositions des autorités sportives compétentes. Nous déclinons toutes responsabilités en cas d'utilisation inadéquate.
Makes and Models
CRANKSHAFT MHR BIG BORE pin Ø 13 rod 85 (stroke 44 mm)
Make
Model
APRILIA
APRILIA SR (carb.) 50 2T LC 2004-> (PIAGGIO)


Crankcase MODIFICATIONS: BORING - TO COUPLE ONLY WITH cylinder Kit 3113042 / .T0 - WE SUGGEST TO USE bearings 6614105EA

APRILIA
APRILIA SR 50 2T LC euro 4 (PIAGGIO CA81M)


Crankcase MODIFICATIONS: BORING - TO COUPLE ONLY WITH cylinder Kit 3113042 / .T0 - WE SUGGEST TO USE bearings 6614105EA

APRILIA
APRILIA SR R (carb.) 50 2T LC (PIAGGIO)


Crankcase MODIFICATIONS: BORING - TO COUPLE ONLY WITH cylinder Kit 3113042 / .T0 - WE SUGGEST TO USE bearings 6614105EA

APRILIA
APRILIA SR Street 50 2T LC euro 2


Crankcase MODIFICATIONS: BORING - TO COUPLE ONLY WITH cylinder Kit 3113042 / .T0 - WE SUGGEST TO USE bearings 6614105EA

DERBI
DERBI GP1 50 2T LC


Crankcase MODIFICATIONS: BORING - TO COUPLE ONLY WITH cylinder Kit 3113042 / .T0 - WE SUGGEST TO USE bearings 6614105EA

DERBI
DERBI GP1 OPEN 50 2T LC


Crankcase MODIFICATIONS: BORING - TO COUPLE ONLY WITH cylinder Kit 3113042 / .T0 - WE SUGGEST TO USE bearings 6614105EA

DERBI
DERBI GP1 REVOLUTION 50 2T LC


Crankcase MODIFICATIONS: BORING - TO COUPLE ONLY WITH cylinder Kit 3113042 / .T0 - WE SUGGEST TO USE bearings 6614105EA

GILERA
GILERA DNA 50 2T LC


Crankcase MODIFICATIONS: BORING - TO COUPLE ONLY WITH cylinder Kit 3113042 / .T0 - WE SUGGEST TO USE bearings 6614105EA

GILERA
GILERA RUNNER SP 50 2T LC <-2005


Crankcase MODIFICATIONS: BORING - TO COUPLE ONLY WITH cylinder Kit 3113042 / .T0 - WE SUGGEST TO USE bearings 6614105EA

GILERA
GILERA RUNNER SP 50 2T LC 2006-> (C451M)


Crankcase MODIFICATIONS: BORING - TO COUPLE ONLY WITH cylinder Kit 3113042 / .T0 - WE SUGGEST TO USE bearings 6614105EA

GILERA
GILERA RUNNER 50 2T LC


Crankcase MODIFICATIONS: BORING - TO COUPLE ONLY WITH cylinder Kit 3113042 / .T0 - WE SUGGEST TO USE bearings 6614105EA

PIAGGIO
PIAGGIO NRG Power 50 2T LC euro 4 2018-> (CA71M)


Crankcase MODIFICATIONS: BORING - TO COUPLE ONLY WITH cylinder Kit 3113042 / .T0 - WE SUGGEST TO USE bearings 6614105EA

PIAGGIO
PIAGGIO NRG EXTREME 50 2T LC


Crankcase MODIFICATIONS: BORING - TO COUPLE ONLY WITH cylinder Kit 3113042 / .T0 - WE SUGGEST TO USE bearings 6614105EA

PIAGGIO
PIAGGIO NRG MC2 50 2T LC <-1997


Crankcase MODIFICATIONS: BORING - TO COUPLE ONLY WITH cylinder Kit 3113042 / .T0 - WE SUGGEST TO USE bearings 6614105EA

PIAGGIO
PIAGGIO NRG MC2 50 2T LC 1998->


Crankcase MODIFICATIONS: BORING - TO COUPLE ONLY WITH cylinder Kit 3113042 / .T0 - WE SUGGEST TO USE bearings 6614105EA

PIAGGIO
PIAGGIO NRG 50 2T LC


Crankcase MODIFICATIONS: BORING - TO COUPLE ONLY WITH cylinder Kit 3113042 / .T0 - WE SUGGEST TO USE bearings 6614105EA

PIAGGIO
PIAGGIO NRG MC3 DD 50 2T LC


Crankcase MODIFICATIONS: BORING - TO COUPLE ONLY WITH cylinder Kit 3113042 / .T0 - WE SUGGEST TO USE bearings 6614105EA

PIAGGIO
PIAGGIO NTT 50 2T LC


Crankcase MODIFICATIONS: BORING - TO COUPLE ONLY WITH cylinder Kit 3113042 / .T0 - WE SUGGEST TO USE bearings 6614105EA

PIAGGIO
PIAGGIO NRG Power DD 50 2T LC


Crankcase MODIFICATIONS: BORING - TO COUPLE ONLY WITH cylinder Kit 3113042 / .T0 - WE SUGGEST TO USE bearings 6614105EA

PIAGGIO
PIAGGIO QUARTZ 50 2T LC


Crankcase MODIFICATIONS: BORING - TO COUPLE ONLY WITH cylinder Kit 3113042 / .T0 - WE SUGGEST TO USE bearings 6614105EA

PIAGGIO
PIAGGIO ZIP SP 50 2T LC 2001->


Crankcase MODIFICATIONS: BORING - TO COUPLE ONLY WITH cylinder Kit 3113042 / .T0 - WE SUGGEST TO USE bearings 6614105EA

PIAGGIO
PIAGGIO ZIP SP 50 2T LC <-2000


Crankcase MODIFICATIONS: BORING - TO COUPLE ONLY WITH cylinder Kit 3113042 / .T0 - WE SUGGEST TO USE bearings 6614105EA
Spare parts
CRANKSHAFT MHR BIG BORE pin Ø 13 rod 85 (stroke 44 mm)