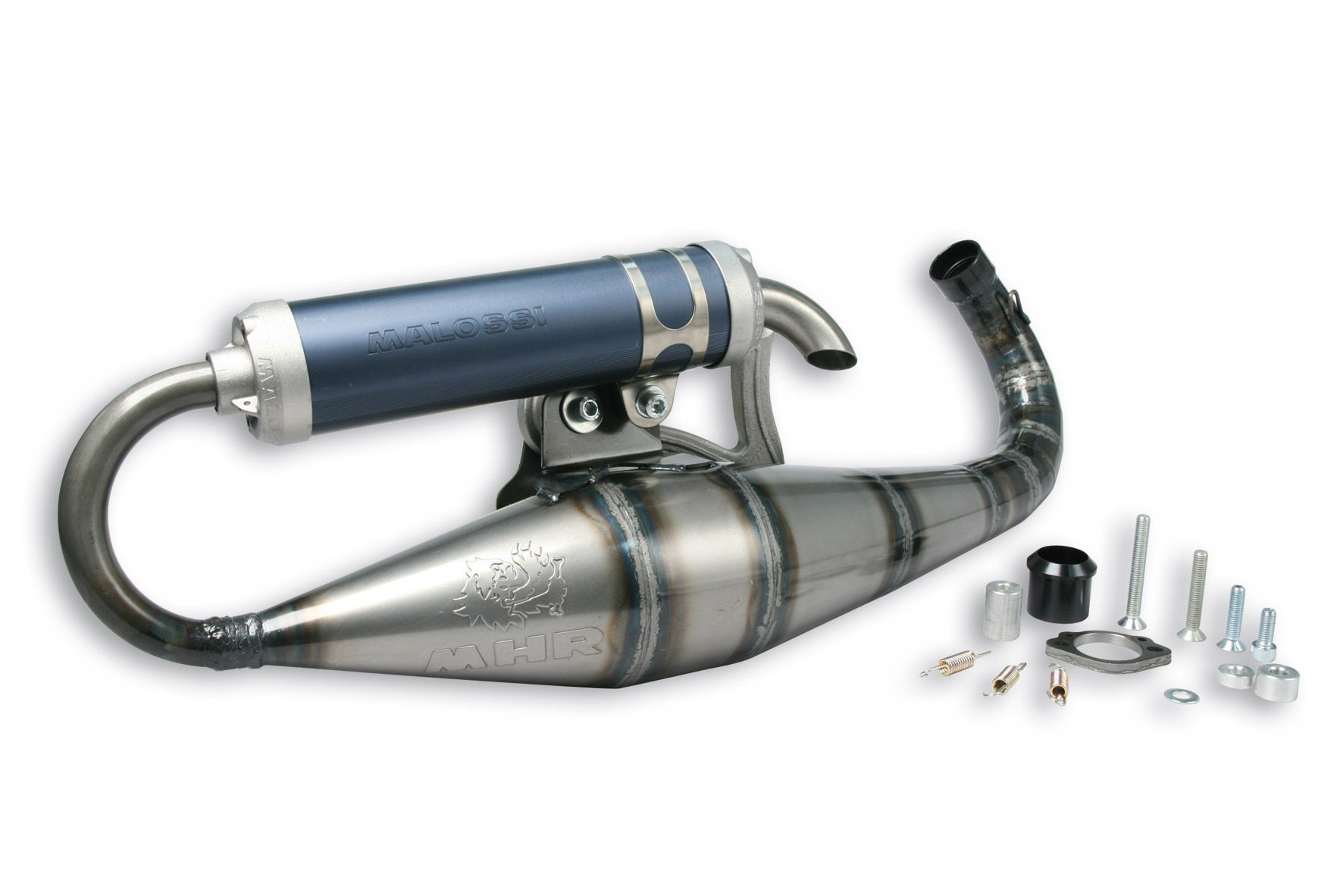 NOTE: for CYLINDERS Ø 47,6
Description
Thanks to careful bench tests as well as the hard work done during the racing season, Malossi technicians managed to achieve a further performance increase, thus improving power and torque: as a result, the new MHR II exhaust systems were born, a further evolution of their previous versions!
The new exhaust for 70cc engine in the different categories can be recognized thanks to the brand mark with the lion and the MHR sign.
It has been greatly changed in all its measures. From an aesthetic point of view, perhaps it is not possible to realize the efforts and the research of our technicians in order to gain a great increase in torque and in acceleration as well, to have a stronger engine both at low and high speed and to achieve a power increase of about a half HP: about 6 tenths of maximum power!
Technical features
EXHAUST in special sheet steel (0.8/0.10 mm thickness), manufactured using robotic T.I.G.and M.I.G. welding and manual torch welding with oxy-acetaline, artiginally peened. Clear coat finish.
SILENCER in aluminum, anodized in Nitro blue.
Produits réservés exclusivement à la compétition dans les lieux réservés pour et suivant les dispositions des autorités sportives compétentes. Nous déclinons toutes responsabilités en cas d'utilisation inadéquate.
Makes and Models
EXHAUST SYSTEM SCOOTER RACING MHR TEAM 2
Make
Model
APRILIA
APRILIA SR 50 2T 1994->


for CYLINDERS Ø 47,6

APRILIA
APRILIA GULLIVER 50 2T LC


for CYLINDERS Ø 47,6

APRILIA
APRILIA RALLY 50 2T (MINARELLI)


for CYLINDERS Ø 47,6

APRILIA
APRILIA SR NETSCAPER 50 2T LC (MINARELLI)


for CYLINDERS Ø 47,6

APRILIA
APRILIA RALLY 50 2T LC (MINARELLI)


for CYLINDERS Ø 47,6

APRILIA
APRILIA SCARABEO 50 2T (MINARELLI)


for CYLINDERS Ø 47,6

APRILIA
APRILIA SR RACING 50 2T LC (MINARELLI)


for CYLINDERS Ø 47,6

APRILIA
APRILIA SONIC 50 2T


for CYLINDERS Ø 47,6

APRILIA
APRILIA SONIC 50 2T LC


for CYLINDERS Ø 47,6

APRILIA
APRILIA SR REPLICA 50 2T LC <-1999


for CYLINDERS Ø 47,6

APRILIA
APRILIA SR STEALTH 50 2T LC (MINARELLI)


for CYLINDERS Ø 47,6

APRILIA
APRILIA SR WWW 50 2T


for CYLINDERS Ø 47,6

BENELLI
BENELLI 491 SPORT 50 2T LC (MINARELLI)


for CYLINDERS Ø 47,6

BETA
BETA ARK 50 2T


for CYLINDERS Ø 47,6

BETA
BETA ARK 50 2T LC


for CYLINDERS Ø 47,6

BETA
BETA EIKON 50 2T LC


for CYLINDERS Ø 47,6

BENELLI
BENELLI 491 GT 50 2T (MINARELLI)


for CYLINDERS Ø 47,6

BENELLI
BENELLI K2 50 2T


for CYLINDERS Ø 47,6

BENELLI
BENELLI K2 50 2T LC


for CYLINDERS Ø 47,6

BENELLI
BENELLI NAKED 50 2T


for CYLINDERS Ø 47,6

BENELLI
BENELLI PEPE LX 50 2T euro 2 (QJ1E40QMB-4)


for CYLINDERS Ø 47,6

BETA
BETA QUADRA 50 2T


for CYLINDERS Ø 47,6

BENELLI
BENELLI QuattronoveX 50 2T euro 2


for CYLINDERS Ø 47,6

CPI
CPI ARAGON GP 50 2T


for CYLINDERS Ø 47,6

CPI
CPI HUSSAR 50 2T <-2002 (50 C)


for CYLINDERS Ø 47,6

CPI
CPI HUSSAR 50 2T 2003->


for CYLINDERS Ø 47,6

CPI
CPI OLIVER 50 2T <-2002 (50 C)


for CYLINDERS Ø 47,6

CPI
CPI OLIVER 50 2T 2003->


for CYLINDERS Ø 47,6

CPI
CPI POPCORN 50 2T <-2002 (50 C)


for CYLINDERS Ø 47,6

CPI
CPI POPCORN 50 2T 2003->


for CYLINDERS Ø 47,6

EXPLORER
EXPLORER CRACKER 50 2T 2003-> (GE 1E 400 MB)


for CYLINDERS Ø 47,6

GARELLI
GARELLI TIESSE 50R 50 2T euro 2 (1E40QMB)


for CYLINDERS Ø 47,6

HUPPER
HUPPER MONTECARLO 30 50 2T (1E40QMB)


for CYLINDERS Ø 47,6

KEEWAY
KEEWAY F-ACT 50 2T


for CYLINDERS Ø 47,6

KEEWAY
KEEWAY GOCCIA 50 2T (KW1E40QMB-4 )


for CYLINDERS Ø 47,6

KEEWAY
KEEWAY HURRICANE 50 2T euro 2 (KW1E40QMB)


for CYLINDERS Ø 47,6

KEEWAY
KEEWAY MATRIX 50 2T (KW1E40QMB-4)


for CYLINDERS Ø 47,6

KEEWAY
KEEWAY PIXEL 50 2T euro 2 (KW1E40QMB )


for CYLINDERS Ø 47,6

KEEWAY
KEEWAY RY8 50 2T (KW1E40QMB-4 )


for CYLINDERS Ø 47,6

MALAGUTI
MALAGUTI F10 50 2T


for CYLINDERS Ø 47,6

MALAGUTI
MALAGUTI F10 WAP 50 2T euro 2 (QJ*CMA03C*)


for CYLINDERS Ø 47,6

MALAGUTI
MALAGUTI F12-PHANTOM 50 2T


for CYLINDERS Ø 47,6

MALAGUTI
MALAGUTI F15 FIREFOX 50 2T LC


for CYLINDERS Ø 47,6

MALAGUTI
MALAGUTI F12 DIGIT KAT-PHANTOM 50 2T LC


for CYLINDERS Ø 47,6

MALAGUTI
MALAGUTI F12 DIGIT KAT-PHANTOM 50 2T LC euro 2


for CYLINDERS Ø 47,6

MALAGUTI
MALAGUTI F12-PHANTOM 50 2T LC


for CYLINDERS Ø 47,6

MALAGUTI
MALAGUTI F12 R ARIA 50 2T euro 2 (QJ*CMA02C*)


for CYLINDERS Ø 47,6

MALAGUTI
MALAGUTI F12 R LC 50 2T LC euro 2


for CYLINDERS Ø 47,6

MALAGUTI
MALAGUTI YESTERDAY 50 2T


for CYLINDERS Ø 47,6

MBK
MBK EVOLIS 50 2T


for CYLINDERS Ø 47,6

MBK
MBK FIZZ 50 2T


for CYLINDERS Ø 47,6

MBK
MBK FLIPPER 50 2T


for CYLINDERS Ø 47,6

MBK
MBK FORTE 50 2T


for CYLINDERS Ø 47,6

MBK
MBK HOT CHAMP 50 2T


for CYLINDERS Ø 47,6

MBK
MBK MACH G 50 2T


for CYLINDERS Ø 47,6

MBK
MBK MACH G 50 2T LC


for CYLINDERS Ø 47,6

MBK
MBK NITRO 50 2T LC


for CYLINDERS Ø 47,6

MBK
MBK OVETTO 50 2T


for CYLINDERS Ø 47,6

MBK
MBK SORRISO 50 2T 1996->


for CYLINDERS Ø 47,6

YAMAHA
YAMAHA AEROX 50 2T LC euro 0-1


for CYLINDERS Ø 47,6

YAMAHA
YAMAHA AEROX 50 2T LC euro 2


for CYLINDERS Ø 47,6

YAMAHA
YAMAHA AXIS 50 2T


for CYLINDERS Ø 47,6

YAMAHA
YAMAHA BREEZE 50 2T


for CYLINDERS Ø 47,6

YAMAHA
YAMAHA JOG ER 50 2T


for CYLINDERS Ø 47,6

YAMAHA
YAMAHA JOG 50 2T


for CYLINDERS Ø 47,6

YAMAHA
YAMAHA JOG R 50 2T


for CYLINDERS Ø 47,6

YAMAHA
YAMAHA JOGRR 50 2T LC euro 2


for CYLINDERS Ø 47,6

YAMAHA
YAMAHA JOG Z 50 2T


for CYLINDERS Ø 47,6

YAMAHA
YAMAHA NEO'S 50 2T


for CYLINDERS Ø 47,6

YAMAHA
YAMAHA WHY 50 2T


for CYLINDERS Ø 47,6

YAMAHA
YAMAHA ZEST 50 2T


for CYLINDERS Ø 47,6
Spare parts
EXHAUST SYSTEM SCOOTER RACING MHR TEAM 2