OVERSIZED WHOOP DISC KIT ext. Ø 250 - thickness 3 mm/ BRAKE CALIPER SUPP. CLAMP for ORIGINAL FORK
for YAMAHA AEROX 50 2T LC euro 0-1
6213297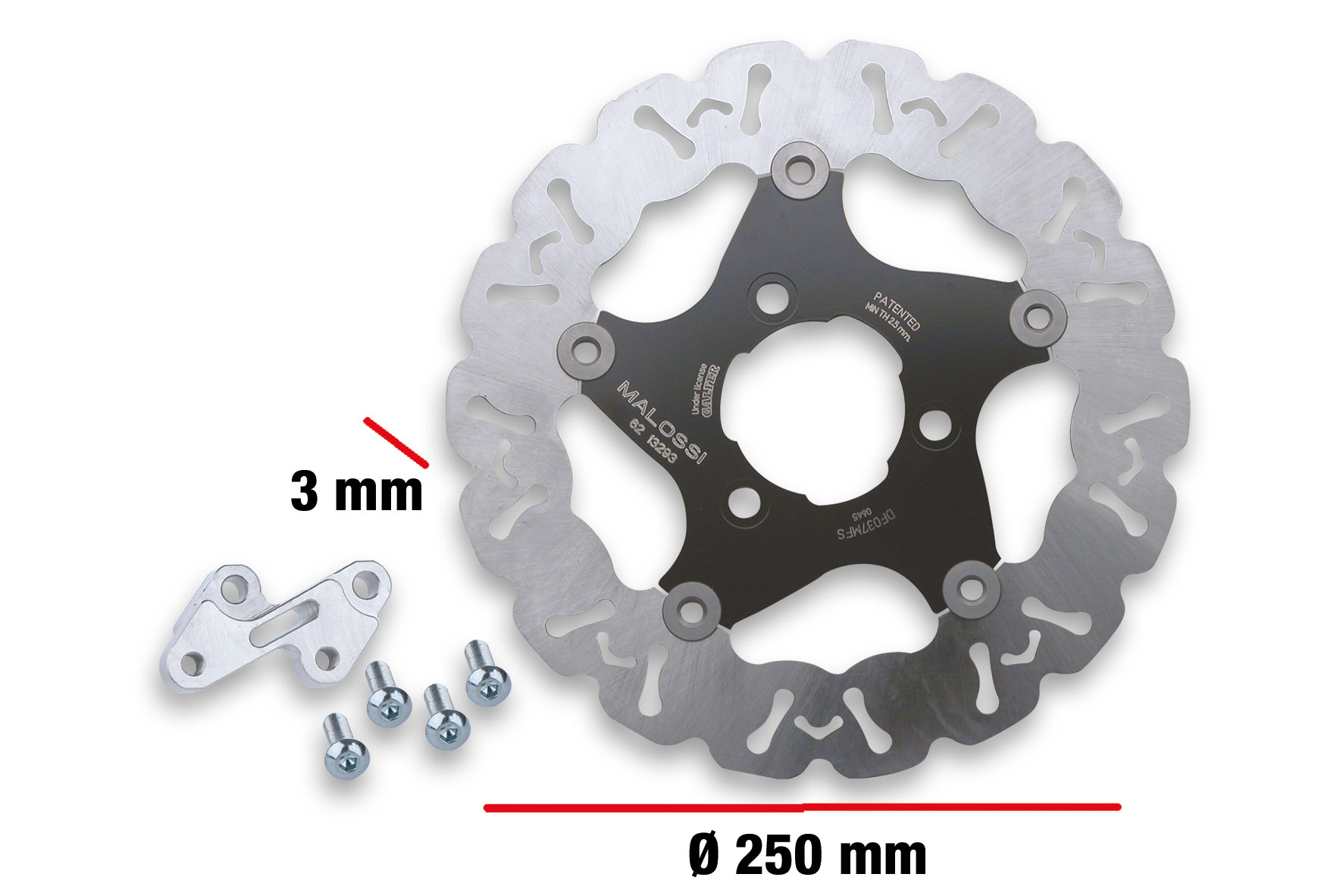 The product is AVAILABLE
Avvisami quando disponibile
Description
KIT WHOOP DISC
oversized Ø 250 mm brake disc
for ORIGINAL FORK
with CALIPER SUPPORT CLAMP


This kit is composed by a caliper support clamp and an oversized Ø disc of the Whoop Disc line, excellent to mantain the original fork. Thanks to the clamp inserted into the kit it is possible to assemble the oversized 250 mm Ø Whoop Disc also on original fork, to obtain powerful braking!

The Newest Generation of Disk Brakes. Light, non corrosive, non-warping, anti-stress: - studied for prolonged use in all weather conditions and types of terrain.
The WHOOP DISCS were exposed to numerous tests during competitions, giving Malossi technicians an opportunity to fine-tune the disk brakes for various scooters.
The WHOOP DISC paired with Malossi BRAKE PADS guarantee a progressive and secure braking even under extreme conditions.


Technical features
- Stainless steel disk, laser cut, hardened and surface machined.
- Profile designed using CAD to insure complete scraping of the brake pad, the elimination of brake dust, and the removal of water and mud during braking.
- Surface area doubled to lower the disks working temperature.

Products reserved exclusively for competitions in places intended for them in accordance with the provisions of the competent sports authorities. We Disclaim all liability for improper use
Makes and Models
OVERSIZED WHOOP DISC KIT ext. Ø 250 - thickness 3 mm/ BRAKE CALIPER SUPP. CLAMP for ORIGINAL FORK
Spare parts
OVERSIZED WHOOP DISC KIT ext. Ø 250 - thickness 3 mm/ BRAKE CALIPER SUPP. CLAMP for ORIGINAL FORK