ROLLER CRANKCASE MHR TEAM PIAGGIO
for PIAGGIO ZIP SP 50 2T LC 2001->
2514603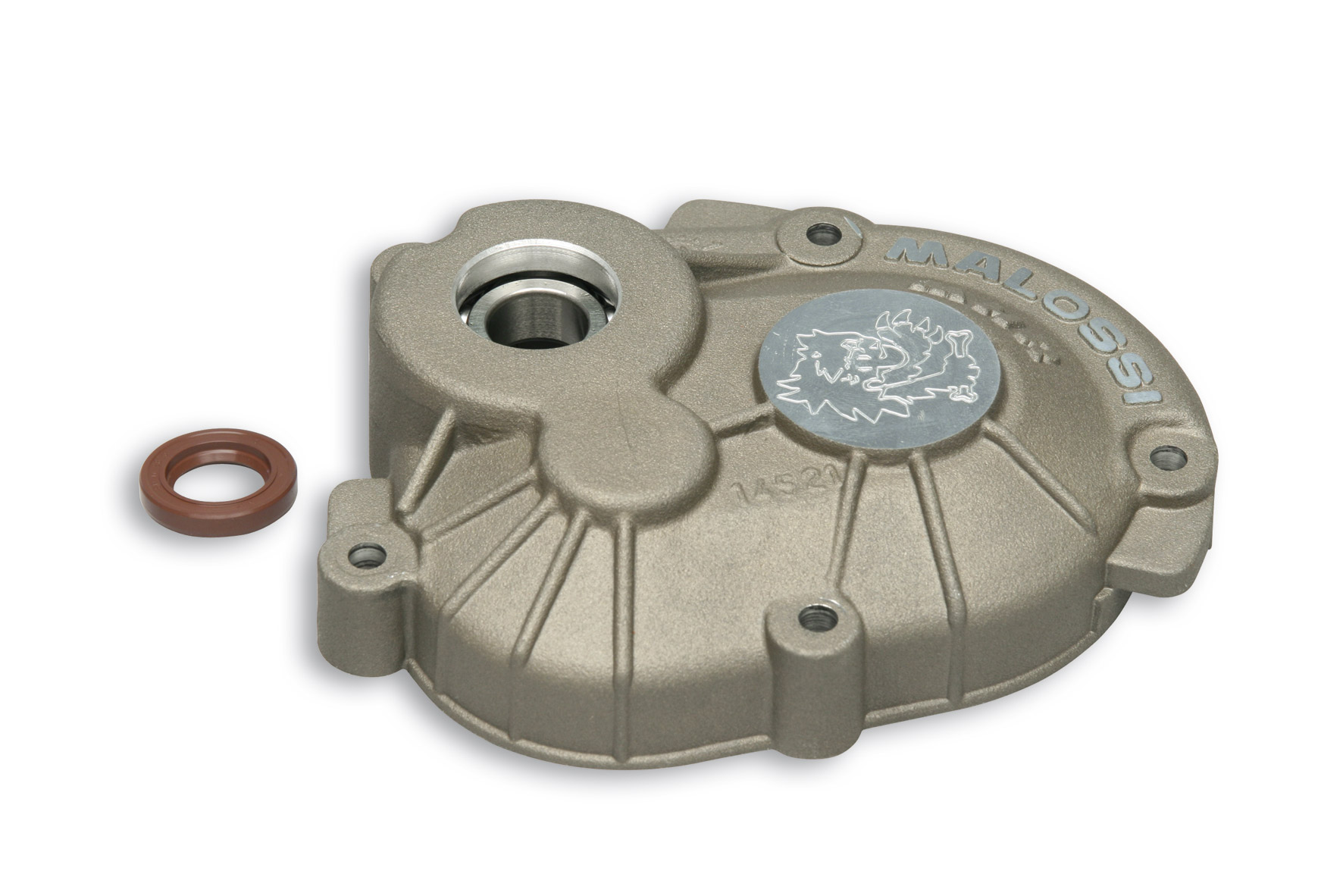 NOTE: NOT to be used on VEHICLE WITH ORIGINAL PRIMARY GEARS
Description
Malossi is pleased to announce two new gear-box covers for scooters and Piaggio 50 cc engines, designed for racing and for a sport upgrade of standard production scooters.
Malossi, after revisiting the gear box assembly, has reduced friction drastically by replacing the original cover with two new gravity cast covers, assembled with special bearings.
These new covers, machined with high precision machines, have increased strength and reduced weight and able to withstand very high workloads, typical in racing.
Perfectly interchangeable with the original covers and complete with all necessary bearings and seal, the Roller Crankcase helps reduce friction by 4% for the MHR version P/N 2514521 and 6% for the MHR TEAM version P/N 2514603. These covers require using Malossi Secondary Roller Gears:
P/N 2514521 : MHR Version to be used with Malossi Secondary Gear or original.
P/N 2514603 : MHR TEAM Version to be used with Malossi Second Roller Gear.
Technical Characteristics and Components
One (1) reinforced gear-box cover, gravity-fed permanent mould casted with aluminium-silicon alloy, heat treated.
Increased secondary shaft bores for two bearings.
Two (2) special needle roller bearings.
One (1) ball bearing with increased load capacity.
One (1) oil seal.
The Roller Crankcase, Piaggio II series, are featured in our catalogue along with the gear-box cover for Yamaha-Minarelli 50 cc horizontal cylinder engine and offer the same technologies and features for strength and smoothness.
Products reserved exclusively for competitions in places intended for them in accordance with the provisions of the competent sports authorities. We Disclaim all liability for improper use
Makes and Models
ROLLER CRANKCASE MHR TEAM PIAGGIO
Spare parts
ROLLER CRANKCASE MHR TEAM PIAGGIO