TEAM FACTORY ALUM-CYL. KIT Ø 47,6 H2O 7T MHR modul-head
for PIAGGIO ZIP SP 50 2T LC 2001->
3112099.T0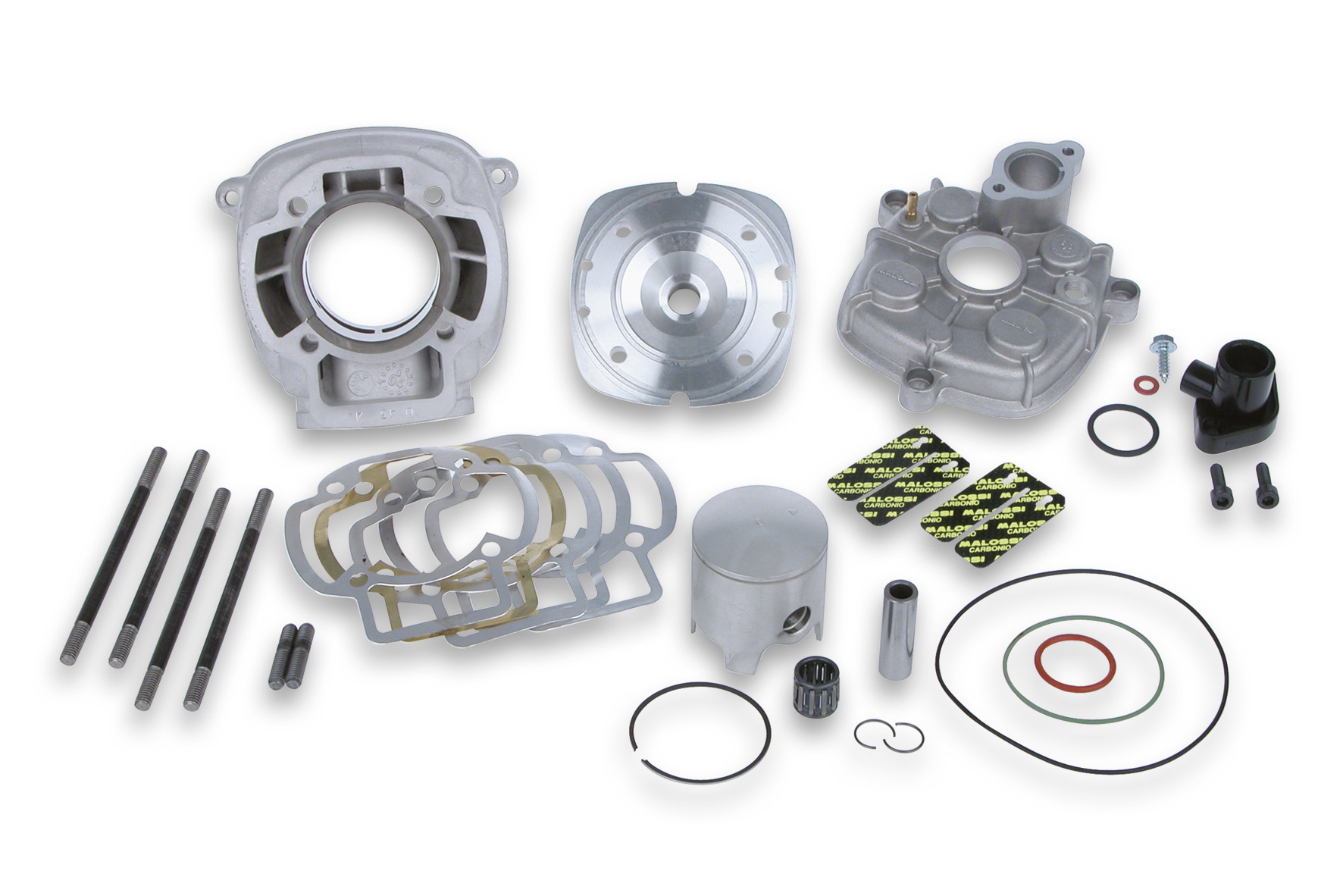 NOTE: Crankcase MODIFICATIONS: BORING AND CHAMFERING - To be combined EXCLUSIVELY with crankshafts 53 9212 - 5316005 (53 9703 - 5314544 - 5314887)
Description
Cylinder Kits
Team Factory for Scooter
Race Ready – Hand Finished
The Best of Malossi's Cylinder Kits
Team Factory, the synthesis of many years of racing research and development, is a special product line of cylinder kits from Malossi, handmade in limited quantities, and intended solely for scooter racing. The new cylinder kits Team Factory are the result of further development and refinement of Malossi products specifically selected and developed for the Malossi Trophy. Extreme attention is paid to the machining of these products, so much so that they show the full potential of Malossi's research and experience, from material selection to production processes, the level of precision to the rigorous final quality testing.
The cylinder is one of the most important and most complex parts that make up the kit Trophy.
The port and exhaust diagram values must be within tolerances of 5 hundredths of a millimetre. To obtain these infinitesimal values it is essential to tweak both exhaust and transfer ports one by one, with dental tools, which only expert technicians can perform.
Only perfect cylinders, subjected to the most sophisticated and rigorous controls, become Malossi Team Factory. The cylinder and piston coupling is strictly maintained within a tolerance of 5 microns, the roundness of the cylinder within 5 microns and the cylinder bore may not exceed the second-class selection.
Even the compound head is machined and subjected to very stringent quality tests, intended to check mainly the squish and compression.
Technical Features
Cylinder: aluminium, alloy of silicon and copper, gravity cast, hardened and tempered with a hardness of 100-110 Brinell. Machined in-house at Malossi with high-precision machining centres.Cylinder with Cermetal protective coating, Vickers hardness 600/630, 30 degree criss-cross honing and roundness within 5 microns.
Piston: aluminium alloy with 18% of silicon, racing version, reinforced, hardened and stress relieved, special profile and single ring.
Piston Ring: high strength stainless steel alloy 0.8 mm with chromed and lapped sliding surface.
Piston Pin: Aerospace quality FADH hardened steel, ground and polished.
Head: aluminium alloy with 9% silicon, gravity cast, annealed and aged, manufactured on machining centres with a tolerance of one hundredth of a millimetre.
Head Cover: Cast aluminium alloy with 12% silicon with Viton O-ring seal.
Produits réservés exclusivement à la compétition dans les lieux réservés pour et suivant les dispositions des autorités sportives compétentes. Nous déclinons toutes responsabilités en cas d'utilisation inadéquate.
Makes and Models
TEAM FACTORY ALUM-CYL. KIT Ø 47,6 H2O 7T MHR modul-head
Make
Model
APRILIA
APRILIA SR (carb.) 50 2T LC 2004-> (PIAGGIO)


Crankcase MODIFICATIONS: BORING AND CHAMFERING - To be combined EXCLUSIVELY with crankshafts 53 9212 - 5316005 (53 9703 - 5314544 - 5314887)

APRILIA
APRILIA SR 50 2T LC euro 4 (PIAGGIO CA81M)


Crankcase MODIFICATIONS: BORING AND CHAMFERING - To be combined EXCLUSIVELY with crankshafts 53 9212 - 5316005 (53 9703 - 5314544 - 5314887) - For the proper installation of the cylinder kit it is necessary to fit the temperature sensor ADAPTER, art. 1518132B

APRILIA
APRILIA SR R (carb.) 50 2T LC (PIAGGIO)


Crankcase MODIFICATIONS: BORING AND CHAMFERING - To be combined EXCLUSIVELY with crankshafts 53 9212 - 5316005 (53 9703 - 5314544 - 5314887)

APRILIA
APRILIA SR Street 50 2T LC euro 2


Crankcase MODIFICATIONS: BORING AND CHAMFERING - To be combined EXCLUSIVELY with crankshafts 53 9212 - 5316005 (53 9703 - 5314544 - 5314887)

DERBI
DERBI GP1 50 2T LC


Crankcase MODIFICATIONS: BORING AND CHAMFERING - To be combined EXCLUSIVELY with crankshafts 53 9212 - 5316005 (53 9703 - 5314544 - 5314887)

DERBI
DERBI GP1 OPEN 50 2T LC


Crankcase MODIFICATIONS: BORING AND CHAMFERING - To be combined EXCLUSIVELY with crankshafts 53 9212 - 5316005 (53 9703 - 5314544 - 5314887)

DERBI
DERBI GP1 REVOLUTION 50 2T LC


Crankcase MODIFICATIONS: BORING AND CHAMFERING - To be combined EXCLUSIVELY with crankshafts 53 9212 - 5316005 (53 9703 - 5314544 - 5314887)

GILERA
GILERA DNA 50 2T LC


Crankcase MODIFICATIONS: BORING AND CHAMFERING - To be combined EXCLUSIVELY with crankshafts 53 9212 - 5316005 (53 9703 - 5314544 - 5314887)

GILERA
GILERA RUNNER SP 50 2T LC <-2005


Crankcase MODIFICATIONS: BORING AND CHAMFERING - To be combined EXCLUSIVELY with crankshafts 53 9212 - 5316005 (53 9703 - 5314544 - 5314887)

GILERA
GILERA RUNNER SP 50 2T LC 2006-> (C451M)


Crankcase MODIFICATIONS: BORING AND CHAMFERING - To be combined EXCLUSIVELY with crankshafts 53 9212 - 5316005 (53 9703 - 5314544 - 5314887)

GILERA
GILERA RUNNER 50 2T LC


Crankcase MODIFICATIONS: BORING AND CHAMFERING - To be combined EXCLUSIVELY with crankshafts 53 9212 - 5316005 (53 9703 - 5314544 - 5314887)

PIAGGIO
PIAGGIO NRG Power 50 2T LC euro 4 2018-> (CA71M)


Crankcase MODIFICATIONS: BORING AND CHAMFERING - To be combined EXCLUSIVELY with crankshafts 53 9212 - 5316005 (53 9703 - 5314544 - 5314887) - For the proper installation of the cylinder kit it is necessary to fit the temperature sensor ADAPTER, art. 1518132B

PIAGGIO
PIAGGIO NRG EXTREME 50 2T LC


Crankcase MODIFICATIONS: BORING AND CHAMFERING - To be combined EXCLUSIVELY with crankshafts 53 9212 - 5316005 (53 9703 - 5314544 - 5314887)

PIAGGIO
PIAGGIO NRG MC2 50 2T LC <-1997


Crankcase MODIFICATIONS: BORING AND CHAMFERING - To be combined EXCLUSIVELY with crankshafts 53 9212 - 5316005 (53 9703 - 5314544 - 5314887)

PIAGGIO
PIAGGIO NRG MC2 50 2T LC 1998->


Crankcase MODIFICATIONS: BORING AND CHAMFERING - To be combined EXCLUSIVELY with crankshafts 53 9212 - 5316005 (53 9703 - 5314544 - 5314887)

PIAGGIO
PIAGGIO NRG 50 2T LC


Crankcase MODIFICATIONS: BORING AND CHAMFERING - To be combined EXCLUSIVELY with crankshafts 53 9212 - 5316005 (53 9703 - 5314544 - 5314887)

PIAGGIO
PIAGGIO NRG MC3 DD 50 2T LC


Crankcase MODIFICATIONS: BORING AND CHAMFERING - To be combined EXCLUSIVELY with crankshafts 53 9212 - 5316005 (53 9703 - 5314544 - 5314887)

PIAGGIO
PIAGGIO NTT 50 2T LC


Crankcase MODIFICATIONS: BORING AND CHAMFERING - To be combined EXCLUSIVELY with crankshafts 53 9212 - 5316005 (53 9703 - 5314544 - 5314887)

PIAGGIO
PIAGGIO NRG Power DD 50 2T LC


Crankcase MODIFICATIONS: BORING AND CHAMFERING - To be combined EXCLUSIVELY with crankshafts 53 9212 - 5316005 (53 9703 - 5314544 - 5314887)

PIAGGIO
PIAGGIO QUARTZ 50 2T LC


Crankcase MODIFICATIONS: BORING AND CHAMFERING - To be combined EXCLUSIVELY with crankshafts 53 9212 - 5316005 (53 9703 - 5314544 - 5314887)

PIAGGIO
PIAGGIO ZIP SP 50 2T LC 2001->


Crankcase MODIFICATIONS: BORING AND CHAMFERING - To be combined EXCLUSIVELY with crankshafts 53 9212 - 5316005 (53 9703 - 5314544 - 5314887)

PIAGGIO
PIAGGIO ZIP SP 50 2T LC <-2000


Crankcase MODIFICATIONS: BORING AND CHAMFERING - To be combined EXCLUSIVELY with crankshafts 53 9212 - 5316005 (53 9703 - 5314544 - 5314887)
Spare parts
TEAM FACTORY ALUM-CYL. KIT Ø 47,6 H2O 7T MHR modul-head
Code
Description
Price
19 3298E
2 STUDS M 6x18 (UNI 5911) for EXHA.SYS.
€ 3.25

+

19 8696Q
4 STUDS M 6x102 for CARTER
€ 15.01

+

38 9102
ALUM. MODULAR CYLINDER-HEAD Ø 47,6 PIAG.
€ 73.20

+

3611632
C - PISTON PIN CLIP Ø 13x1
€ 0.32

+

1113045B
COMPL. CYL.KIT GASKET SET Ø 47,6-50 (MULT-THICK.- O-RING) (PIAGGIO)
€ 11.39

+

38 9010
CYLINDER-HEAD COVER
€ 59.26

+

34 9690
PISTON Ø 47,6 0 pin Ø 13 rect. ring 1
€ 113.63

+

34 9690.A0
PISTON Ø 47,6 A pin Ø 13 rect. ring 1
€ 113.63

+

34 9690.B0
PISTON Ø 47,6 B pin Ø 13 rect. ring 1
€ 113.63

+

34 9690.C0
PISTON Ø 47,6 C pin Ø 13 rect. ring 1
€ 113.63

+

34 9690.D0
PISTON Ø 47,6 D pin Ø 13 rect. ring 1
€ 113.63

+

23 9688BA
PISTON PIN Ø 13x08,5x38
€ 13.53

+

3512951B
PISTON RING Ø 47,6x0,8 rectangular KDN5
€ 21.14

+

6615509B
ROLLER BEARING Ø 13x17x17,7
€ 18.91

+

15 9489
STRAIGHT H2O CONNECTION KIT for CYL.KIT


For vehicles PRODUCED 2001 ->

€ 17.82

+

3112098.T0
TEAM FACTORY ALUM-CYL.Ø 47,6 H2O 7T MHR for modul-head
€ 590.72

+