ALUM-CYL. KIT Ø 50 (stroke 44 mm) H2O MHR BIG BORE
Для PIAGGIO ZIP SP 50 2T LC <-2000
3113042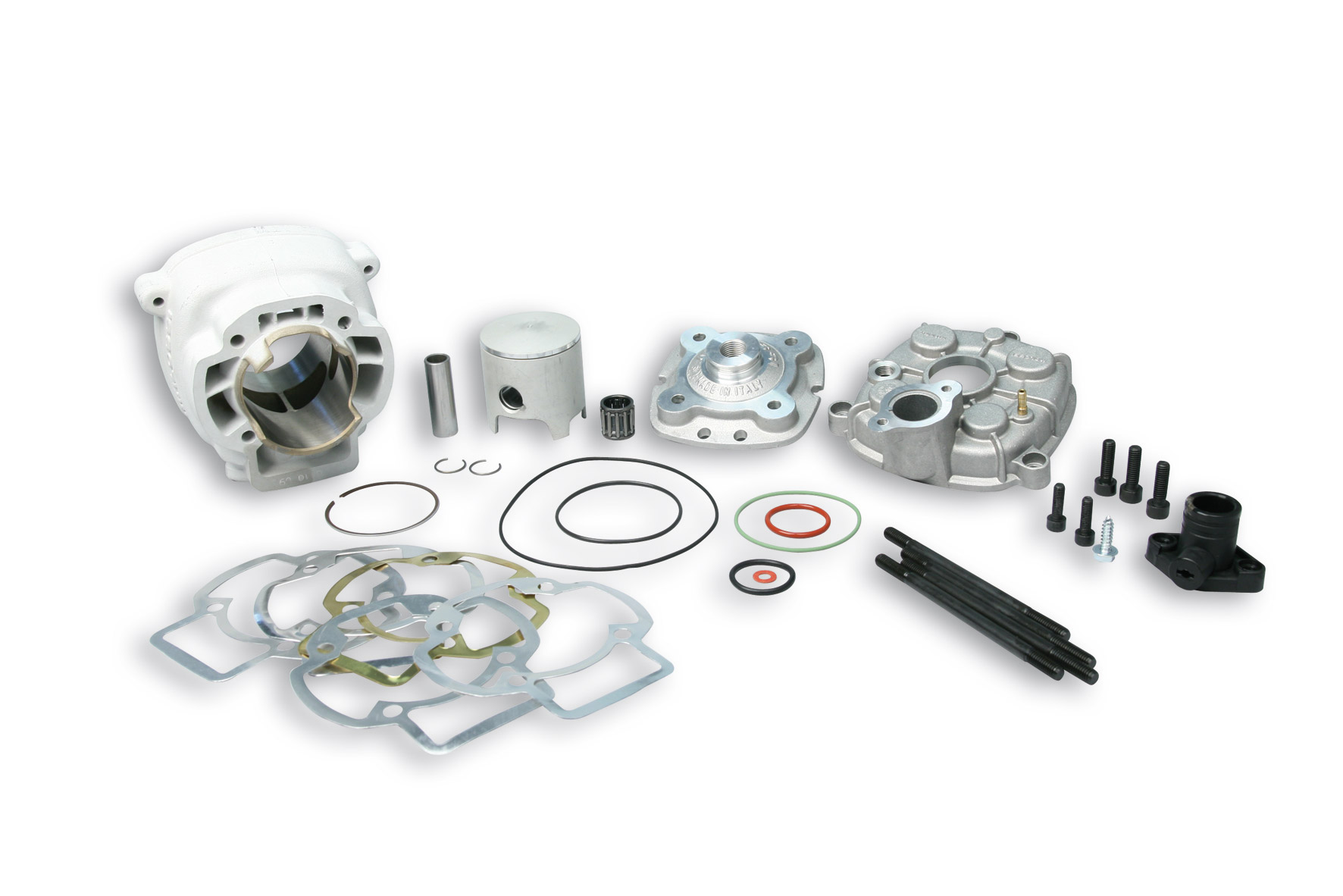 NOTE: Crankcase MODIFICATIONS: BORING AND CHAMFERING - To be combined EXCLUSIVELY with crankshafts 5313270 (and 5316029 AFTER FITTING SPACER 0716345)
Описание
BIG BORE Ø 50


The new
BIG BORE
Ø 50, stroke 39,2-39,3 and 44, cylinder kits comes from the technology of the famous Malossi 7 ports cylinders. They are designed for both Minarelli and Piaggio engines.
All pilots, thrilled about the news, wished to test them. The expectations were not disappointed : the power increase and the absolute reliability proved, once again, the high quality of the products and Malossi professionalism.
Technical specifications:

- 7 ports cylinder, H2O, gravity melted in aluminium alloy, cylinder casing coated in cermetal, lapped with diamond tools
- Bore 50
- 1 ring, strengthen and rounded head piston
- KDN5 cast iron piston ring Ø 50 x 0.8
- Modular head in primary aluminium alloy, drained, with calculated and orientated convoying system of cooling circuit.
Technical note
: the BIG BORE cylinder kits must be used only coupled with Malossi crankshafts.
ATTENTION:
to grant the due stiffness to the cylinder kit, the cylinder has an introduction diameter into the crankcase of 56,2 -0,1/-0,2 mm. Therefore, it is necessary to bore the crankcases with a boring bar of 56,7 + 0,0/0,1 mm for a depth of 21 mm.
Изделия, зарезервированные исключительно для проведения соревнований в местах, зарезервированных для и в соответствии с распоряжениями компетентных спортивных властей. Мы отказываемся от любой ответственности за ненадлежащее использование.
Бренд и модель
ALUM-CYL. KIT Ø 50 (stroke 44 mm) H2O MHR BIG BORE
марка
модель
APRILIA
APRILIA SR (carb.) 50 2T LC 2004-> (PIAGGIO)


Crankcase MODIFICATIONS: BORING AND CHAMFERING - To be combined EXCLUSIVELY with crankshafts 5313270 (and 5316029 AFTER FITTING SPACER 0716345)

APRILIA
APRILIA SR R 50 2T LC euro 4 2018-> (PIAGGIO CA81M)


Crankcase MODIFICATIONS: BORING AND CHAMFERING - To be combined EXCLUSIVELY with crankshafts 5313270 (and 5316029 AFTER FITTING SPACER 0716345) - For the proper installation of the cylinder kit it is necessary to fit the temperature sensor ADAPTER, art. 1518132B

APRILIA
APRILIA SR R (carb.) 50 2T LC (PIAGGIO)


Crankcase MODIFICATIONS: BORING AND CHAMFERING - To be combined EXCLUSIVELY with crankshafts 5313270 (and 5316029 AFTER FITTING SPACER 0716345)

APRILIA
APRILIA SR Street 50 2T LC euro 2


Crankcase MODIFICATIONS: BORING AND CHAMFERING - To be combined EXCLUSIVELY with crankshafts 5313270 (and 5316029 AFTER FITTING SPACER 0716345)

DERBI
DERBI GP1 50 2T LC


Crankcase MODIFICATIONS: BORING AND CHAMFERING - To be combined EXCLUSIVELY with crankshafts 5313270 (and 5316029 AFTER FITTING SPACER 0716345)

DERBI
DERBI GP1 OPEN 50 2T LC


Crankcase MODIFICATIONS: BORING AND CHAMFERING - To be combined EXCLUSIVELY with crankshafts 5313270 (and 5316029 AFTER FITTING SPACER 0716345)

DERBI
DERBI GP1 REVOLUTION 50 2T LC


Crankcase MODIFICATIONS: BORING AND CHAMFERING - To be combined EXCLUSIVELY with crankshafts 5313270 (and 5316029 AFTER FITTING SPACER 0716345)

GILERA
GILERA DNA 50 2T LC


Crankcase MODIFICATIONS: BORING AND CHAMFERING - To be combined EXCLUSIVELY with crankshafts 5313270 (and 5316029 AFTER FITTING SPACER 0716345)

GILERA
GILERA RUNNER SP 50 2T LC <-2005


Crankcase MODIFICATIONS: BORING AND CHAMFERING - To be combined EXCLUSIVELY with crankshafts 5313270 (and 5316029 AFTER FITTING SPACER 0716345)

GILERA
GILERA RUNNER SP 50 2T LC 2006-> (C451M)


Crankcase MODIFICATIONS: BORING AND CHAMFERING - To be combined EXCLUSIVELY with crankshafts 5313270 (and 5316029 AFTER FITTING SPACER 0716345)

GILERA
GILERA RUNNER 50 2T LC


Crankcase MODIFICATIONS: BORING AND CHAMFERING - To be combined EXCLUSIVELY with crankshafts 5313270 (and 5316029 AFTER FITTING SPACER 0716345)

PIAGGIO
PIAGGIO NRG Power 50 2T LC euro 4 2018-> (CA71M)


Crankcase MODIFICATIONS: BORING AND CHAMFERING - To be combined EXCLUSIVELY with crankshafts 5313270 (and 5316029 AFTER FITTING SPACER 0716345) - For the proper installation of the cylinder kit it is necessary to fit the temperature sensor ADAPTER, art. 1518132B

PIAGGIO
PIAGGIO NRG EXTREME 50 2T LC


Crankcase MODIFICATIONS: BORING AND CHAMFERING - To be combined EXCLUSIVELY with crankshafts 5313270 (and 5316029 AFTER FITTING SPACER 0716345)

PIAGGIO
PIAGGIO NRG MC2 50 2T LC <-1997


Crankcase MODIFICATIONS: BORING AND CHAMFERING - To be combined EXCLUSIVELY with crankshafts 5313270 (and 5316029 AFTER FITTING SPACER 0716345)

PIAGGIO
PIAGGIO NRG MC2 50 2T LC 1998->


Crankcase MODIFICATIONS: BORING AND CHAMFERING - To be combined EXCLUSIVELY with crankshafts 5313270 (and 5316029 AFTER FITTING SPACER 0716345)

PIAGGIO
PIAGGIO NRG 50 2T LC


Crankcase MODIFICATIONS: BORING AND CHAMFERING - To be combined EXCLUSIVELY with crankshafts 5313270 (and 5316029 AFTER FITTING SPACER 0716345)

PIAGGIO
PIAGGIO NRG MC3 DD 50 2T LC


Crankcase MODIFICATIONS: BORING AND CHAMFERING - To be combined EXCLUSIVELY with crankshafts 5313270 (and 5316029 AFTER FITTING SPACER 0716345)

PIAGGIO
PIAGGIO NTT 50 2T LC


Crankcase MODIFICATIONS: BORING AND CHAMFERING - To be combined EXCLUSIVELY with crankshafts 5313270 (and 5316029 AFTER FITTING SPACER 0716345)

PIAGGIO
PIAGGIO NRG Power DD 50 2T LC


Crankcase MODIFICATIONS: BORING AND CHAMFERING - To be combined EXCLUSIVELY with crankshafts 5313270 (and 5316029 AFTER FITTING SPACER 0716345)

PIAGGIO
PIAGGIO QUARTZ 50 2T LC


Crankcase MODIFICATIONS: BORING AND CHAMFERING - To be combined EXCLUSIVELY with crankshafts 5313270 (and 5316029 AFTER FITTING SPACER 0716345)

PIAGGIO
PIAGGIO ZIP SP 50 2T LC 2001->


Crankcase MODIFICATIONS: BORING AND CHAMFERING - To be combined EXCLUSIVELY with crankshafts 5313270 (and 5316029 AFTER FITTING SPACER 0716345)

PIAGGIO
PIAGGIO ZIP SP 50 2T LC <-2000


Crankcase MODIFICATIONS: BORING AND CHAMFERING - To be combined EXCLUSIVELY with crankshafts 5313270 (and 5316029 AFTER FITTING SPACER 0716345)
запасные части
ALUM-CYL. KIT Ø 50 (stroke 44 mm) H2O MHR BIG BORE
Код
Описание
Цена
19 8696Q
4 STUDS M 6x102 for CARTER
15,01 €

+

3113043
ALUM-CYL. Ø 50 (stroke 44 mm) H2O MHR BIG BORE
270,11 €

+

3813207
ALUMINIUM MODULAR CYLINDER-HEAD Ø 50
69,94 €

+

3611632
C - PISTON PIN CLIP Ø 13x1
0,32 €

+

1113045B
COMPL. CYL.KIT GASKET SET Ø 47,6-50 (MULT-THICK.- O-RING) (PIAGGIO)
14,64 €

+

38 9010
CYLINDER-HEAD COVER
59,26 €

+

3413034
PISTON Ø 50 0 pin Ø 13 chro.rect.ring 1
81,95 €

+

3413034.A0
PISTON Ø 50 A pin Ø 13 chro.rect.ring 1
81,95 €

+

3413034.B0
PISTON Ø 50 B pin Ø 13 chro.rect.ring 1
81,95 €

+

3413034.C0
PISTON Ø 50 C pin Ø 13 chro.rect.ring 1
81,95 €

+

3413034.D0
PISTON Ø 50 D pin Ø 13 chro.rect.ring 1
81,95 €

+

2313049
PISTON PIN Ø 13x08,5x41
20,54 €

+

3512750B
PISTON RING Ø 50x0,8 rectangular ACC
19,03 €

+

3514741B
PISTON RING Ø 50x0,8 rectangular KDN5
21,96 €

+

3511943BA
PISTON RING Ø 50x0,8x2 rectangular MHR TEAM
22,42 €

+

6615509B
ROLLER BEARING Ø 13x17x17,7
18,91 €

+

15 9489
STRAIGHT H2O CONNECTION KIT for CYL.KIT


For vehicles PRODUCED 2001 ->

17,82 €

+