Complete Ø 38 oval THROTTLE BODY MHR
1616722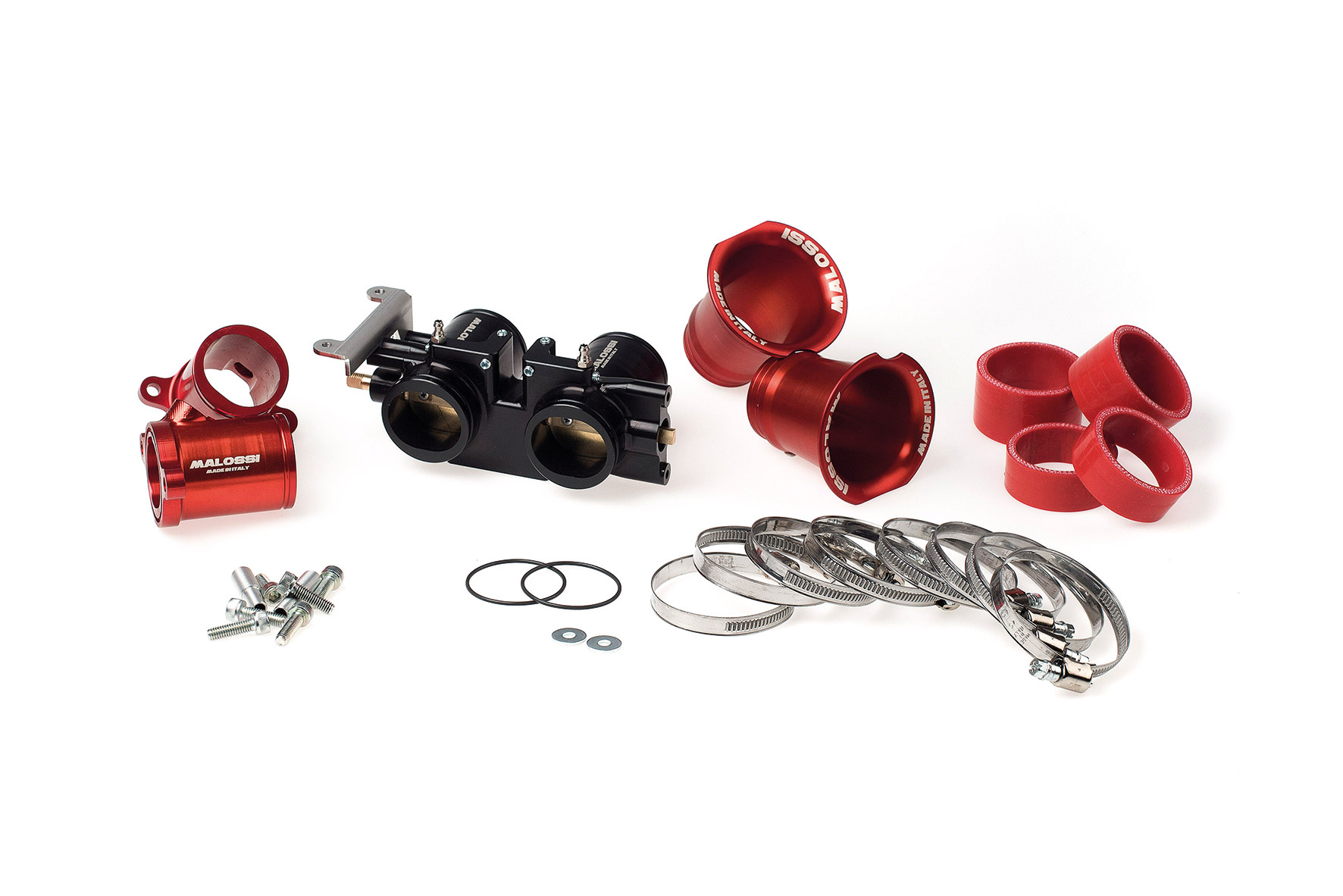 Описание
More power for the T-Max

The most powerful engines require an adequate and constant supply of fuel. Increasing the performance of the Yamaha T-Max, drawing from the extremely complete Malossi catalogue, has made it essential to build a specific throttle body able to ensure a performance that is unthinkable for the standard unit.

Made of black anodized 7975-T6 aluminium, the MHR throttle body has been designed specifically to achieve maximum efficiency in combination with the 560cc Malossi twin cylinder kit and with the Double PowerCam, providing the right intake to the engine in this configuration.

The inner diameter of the throttle body is widened to 38mm, while its length remains identical to the original so that it can be placed without difficulty in its standard position between the head and the airbox. Its inner ducts are cylindrical near the horns, to become progressively oval-shaped in correspondence of the butterfly valve. Thanks to this variation of internal shape, the fresh gases are pushed with more energy towards the head which, featuring two intake valves, requires a significant width, offered by the oval section that continues to the end of the manifold.

The two manifolds supplied with the kit are oversized and can be installed only on a worked head without requiring further modifications. The specific horns for the MHR throttle body are calculated and optimized to achieve the maximum yield from the oval sections of the bodies, exploiting the perfect harmonization of the entire duct.



Use

Racing

Level of compatible elaboration

Twin cylinder 4-stroke 560 cc


Code 3115423




Head working

Double Power Camme


Code 5915981
Изделия, зарезервированные исключительно для проведения соревнований в местах, зарезервированных для и в соответствии с распоряжениями компетентных спортивных властей. Мы отказываемся от любой ответственности за ненадлежащее использование.
Бренд и модель
Complete Ø 38 oval THROTTLE BODY MHR
запасные части
Complete Ø 38 oval THROTTLE BODY MHR